Trying to find the ideal rapid roll doors for your business in Cheshire? Look no further.
This is our area of expertise. With over 15 years' experience and a team of skilled engineers at our disposal, we have become a leading manufacturer of high-speed doors – particularly in the North West. Our warehouse may be based in Merseyside. But we are always happy to travel outside of our home county and, over the years, have worked with many clients across Cheshire. Will you be the next?
Bespoke high-speed doors for businesses in Cheshire
We understand, finding the perfect rapid roll doors for your business can be tricky. After all, your day-to-day operations are unique, and it is crucial to find a door that fully meets your requirements.
This is where we can help. All of our rapid roll doors in Cheshire are 100% bespoke. We do not believe in generic 'off-the-shelf' products. But instead, offer a variety of options and all of our doors are individually designed and manufactured with the specific needs of your business in mind.
For example, they can be made: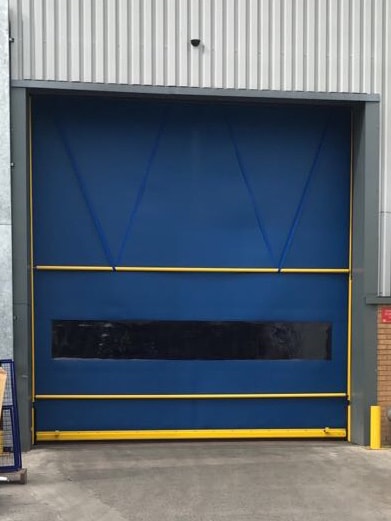 – for indoor or outdoor use
– for industrial or commercial settings
– to fit any size or shape of doorframe
– in a wide range of colours
– with one or multiple window panels
– to include a variety of accessories (e.g. weather rubbers, brush tips)
As they are made-to-order – by our accomplished team of engineers – you can expect the highest quality finish. Each door is built to perfection and guaranteed to last. But for your peace of mind, we also offer a generous 12-month guarantee for all businesses in Cheshire.
A full turnkey service
We are not just a supplier, here at Rapid Roll Doors UK. We are proud of the products that we make and care about our customers. Which is why, we like to offer a full turnkey service – and will assist with everything from the initial manufacture through to installation and ongoing maintenance.
After your new high-speed doors have been made, they will be quickly delivered to your premises in Cheshire and fitted by one of our experts. We will then return regularly to complete planned preventative maintenance (PPM). Ultimately, our goal is to get your new doors up-and-running (as swiftly as possible) and ensure they are working at optimum performance.
Get a quote for rapid roll doors in Cheshire
To find out more about rapid roll doors in Cheshire – including how much they cost – feel free to get in touch at any time. We are always on hand and happy to help with your enquiries. Either give us a call on 0800 328 9356 or fill out our online form and we will respond as soon as possible.
Our prices are very competitive, as we always endeavour to give our customers the best deal. What's more, if you happen to find a cheaper like-for-like high-speed door somewhere else, we will happily beat it. Customer satisfaction means everything to us. So, why not give us a call today?