Need a rapid roll door for your business in Chester? We are here to help.
Our warehouse may be based in Rainford. But we cover a 150 mile radius and, over the years, we have worked with numerous clients – both within the walled city centre and the surrounding suburbs of Cheshire. As a leading manufacturer and supplier in this region, we can provide the perfect high-speed doors for both industrial and commercial environments. So, why not get in touch today?
Rapid doors for all Cheshire businesses
When it comes to supplying rapid roll doors in Chester, no two products are ever the same. We understand. Your business, and its daily operations, are unique. Which is why, we make all of our high-speed doors bespoke to order and tailor them to meet your exact requirements.
There are a variety of options to choose from and the door can be: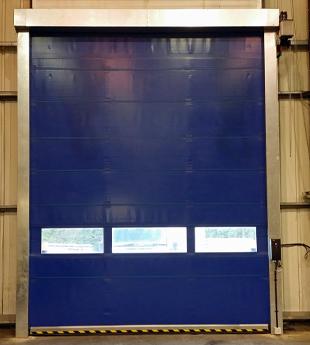 – designed with an internal or external setting in mind
– built for industrial or commercial use
– made to any shape or size
– finished in a diverse range of colours
– fitted with several accessories (i.e. weather rubbers, brush tips etc.)
Just tell us what you need. And, we guarantee, we will produce a rapid roll door – that creates the perfect working environment for your Chester-based business and optimises your productivity.
Even if you order a rapid roll door for use in Chester, it will be manufactured at our warehouse in Merseyside. That way, we can ensure it meets our exceptionally high standards and undergoes a thorough quality check before it is dispatched. Our doors are reliable, efficient and durable. But, for your peace of mind, they also come with a generous 12-month guarantee.
A comprehensive service
Customer satisfaction is paramount to us, here at Rapid Roll UK. When you shop with us, we assist you every step of the way – from the initial design and manufacture of the door to its final installation and maintenance.
Our team of professional engineers will visit your business premises in Chester and fit the new equipment on your behalf. Then, they will return on a regular basis to complete planned preventative maintenance (PPM). Ultimately, we strive to get the door up-and-running as quickly as possible and ensure it fulfils your requirements.
Order your rapid roll doors today
If you need rapid roll doors for a location in Chester, feel free to get in touch at any time. Our prices are competitive and we never like to be beaten. Even if you find the same high-speed door elsewhere, for less, we will always match (or beat!) the quote you have been given. Your custom is important to us and we like to supply the best possible products, at the lowest possible price.
To find out more, or discuss your requirements in detail, either give us a call on 01744 732372 or 0800 328 9356. Alternatively, for a personalised quote for your bespoke rapid roll doors in Chester, simply fill out our online enquiry form and a member of the team will be in touch as soon as possible.