Need to buy a rapid roll door for your business in Lancashire? Why not get in touch with our team? We guarantee we can be of assistance.
As a leading and trusted company in the North West, we have collaborated with a diverse range of businesses across the county of Lancashire. Whatever the nature of your work – whether it is food manufacture, pharmaceuticals, cold storage etc. – we can create and supply the perfect high-speed doors for your requirements, and ensure they are delivered to your premises in no time.
High-speed doors for every business in Lancashire
All of our high-speed doors are manufactured in-house at our warehouse in Rainford. That way, we can ensure they are made to the highest standard and tailored to meet the unique needs of your Lancashire business. We understand; no two businesses are ever the same – even if they work in the same industry. And, as such, we offer a wide range of options and finishes.
For example, our rapid rollers doors in Lancashire can be made: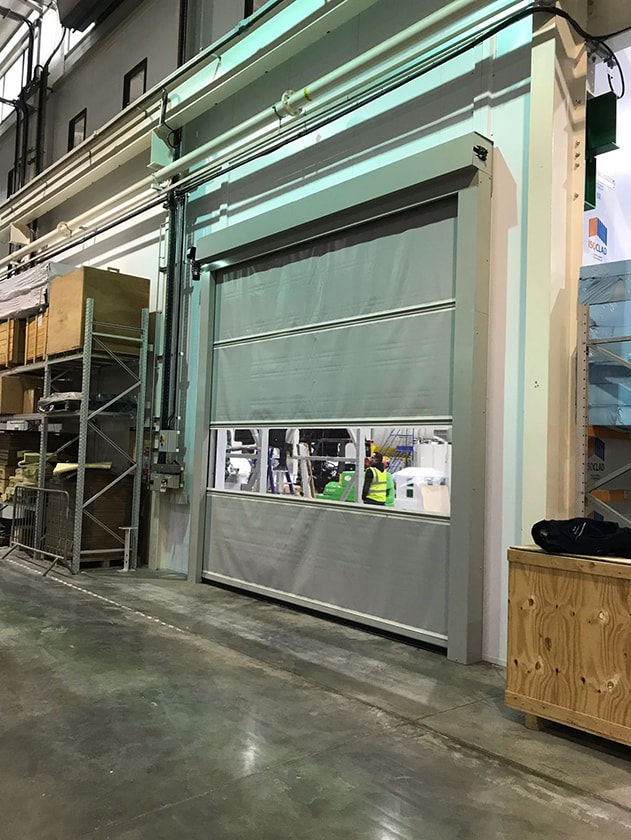 – for indoor and outdoor applications
– for use in an industrial or commercial environment
– to any shape or dimension
– in a broad range of colours
– with weather rubbers, side brush tips and top brush tips
– with or without transparent window panels
It just depends on your requirements. They are all safe, reliable and user-friendly. Each door is designed to maintain a controlled environment and improve on-site security. They all come with a generous 12-month guarantee. But by applying our expertise, we can adapt our services and create a door that is specifically tailored to your business – allowing it to operate as smoothly and efficiently as possible.
Fitting and maintenance of rapid roller doors in Lancashire
Here at Rapid Roll Doors UK, we like to go above and beyond for our clients. Your custom is important to us. Which is why, we provide a comprehensive service, and assist with everything from the initial design to the final installation of your rapid roll doors in Lancashire.
Our professional engineers will fit the new equipment, ensuring that it is properly set-up and ready for use. Then, we offer ongoing repairs and maintenance. Every so often, a member of the team will visit your site and conduct a 21-point PPM (planned preventative maintenance) inspection. This will keep your roller doors in top working condition and ensure they comply with HSE (health and safety) regulations, giving you peace of mind and complete confidence in our products.
Want a price for rapid roll doors in Lancashire?
No problem. Simply fill out our online enquiry form, provide a little information about the kind of roller door you require, and we will get back to you as soon as we can with an estimate. Our prices are very competitive. But if you do happen to find a high-speed door (with all the same features) elsewhere, for less, we promise we will match or beat the quote you have been given.
So, what are you waiting for? Submit your enquiry today. Or if you have any questions about the high-speed doors available in Lancashire, please feel free to get in touch at any time. We are always happy to assist. Just give us a call on 01744 732373 to chat with one of our experts.